Proceedings of ICCBR 2020 are available: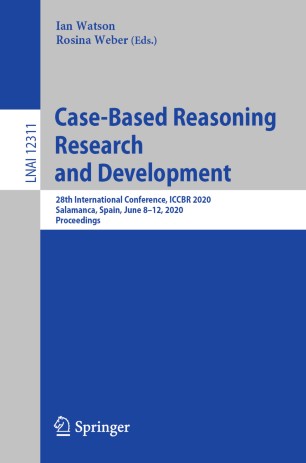 Case-Based Reasoning Research and Development
28th International Conference (ICCBR 2020)
Editors: Ian Watson, Rosina Weber
More information
---
VIEW GENERAL PROGRAM
---
Due to the current pandemic and consequent restrictions, ICCBR2020 will be held virtually during the week of Jun 8 to 12. Authors of accepted papers will present their work via video conference followed by live QA session. Videos will be recorded and available for asynchronous viewing. Conference attendees will be charged a reduced registration fee aimed to cover expenses to date and the publication of the proceedings. The Workshops and Doctoral Consortium will also be held virtually with free attendance.
The notifications are postponed to April 14
Camera ready copies are due by May 14
SPECIAL TRACK IN CHALLENGES AND PROMISES @ ICCBR 2020
Submissions due: May 8, 2020
Notifications: May 15, 2020
Camera ready: May 25, 2020
DOCTORAL CONSORTIUM
Submission deadline: May 1, 2020
Notification: May 20, 2020
Camera ready copy: May 30, 2020
The International Conference on Case-Based Reasoning (ICCBR) is the premier, annual meeting of the CBR community and the leading international conference on this topic. Researchers will present the latest results of their work and discuss future directions of the field.
To encourage this, the ICCBR 2020 program will include keynote addresses, a main technical track, a workshop program, a doctoral consortium, and other events, with several connections to this theme. We warmly welcome participation from all researchers and practitioners who have interest in case-based reasoning, including those who are working on related topics but have not previously attended ICCBR.